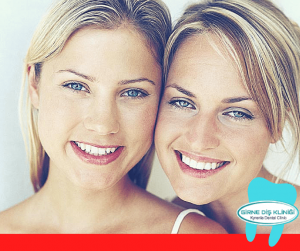 The leading technologically advanced dental clinic in North Cyprus, Kyrenia Dental Clinic, was designed to provide natural-looking, state-of-the-art cosmetic dental treatment. Led by Dr. Mustafa Haldun Sevgili, we can provide you with same-day dental implants.
Dental Implants in Kyrenia are considered the ideal solution to replace missing teeth because they mimic a natural tooth — in many ways. A strategically placed implant functions similarly to a tooth root by stimulating the jaw bone while preventing bone loss and inspiring healthy bone growth.
Our partnered lab creates dental implants to our dentist's exact specifications using the highest-quality materials. These custom implants match your natural teeth, restore your ability to eat and speak naturally — and most importantly enhance your smile.
What is a Dental Implant?
In recent years, dental implants in Kyrenia have become very popular alternative to traditional implants and bridges.
A dental implant is an artificial replacement tooth root. It is used to hold a restoration to replace teeth since it provides a firm foundation for removable or permanent replacement teeth which are made to closely resemble the natural teeth. The attached dental crown also grants patients the biting function of a natural tooth.
Are Dental Implants Right for Me?
Nearly anyone in good health whose jaw has finished growing is a candidate, whether they were simply born without a tooth or lost one or more teeth due to injury, decay, gum (periodontal) disease, infection or another reason. Dental implants also are a great option for patients who don't want the drawbacks of, or can no longer wear, removable dentures.
Will Implants Cause Pain?
Drilling and screwing may sound painful, but you'll be comforted to know that placing an implant is easier than taking a tooth out. Usually a local anesthetic is used, which means you are awake during the surgery. You shouldn't feel any pain during the surgery, especially if it is done with healthy tissue. Also, the bone where the implant is placed does not have many pain-sensing nerves. But if you're very nervous about the surgery, you have sedative options to make you more comfortable during the operation.
Immediately after the surgery and for a few days you will likely experience some discomfort. After all, this is a major dental procedure. However, any pain should be manageable.
Transform Your Smile with Dental Implants
Utilizing over 10 years of experience and the most technologically advanced dental clinic, our dental experts are certain they can handle any dental implant case — quickly and comfortably.
With extensive training in implant dentistry and restorations, Dr. Sevgeli offers solutions for single and multiple missing teeth as well as full-arch replacements using dental implants at the most advanced dental facility in North Cyprus.
When tooth loss is left untreated, serious complications can affect the jaw —  and surrounding teeth. The loss of jaw bone volume can occur within the first year of a missing tooth, which can drastically change one's facial appearance, shift teeth — and eventually generate further tooth loss. Without adequate bone volume, dental implants will not have a proper foundation for long-term support and thus are not able to be placed. However, when a missing tooth is immediately replaced with a dental implant, this bone loss can be prevented.
Step 1 | Initial Consult
When you come to our Kyrenia Dental Clinic in North Cyprus seeking same-day implants, you will first meet with expert cosmetic dentist Dr. Sevgili to discuss your complete dental history. He will ask you about any earlier experiences that you have had with dental implant surgery or other tooth replacement alternatives. He will also learn your medical history and current health to determine if you are a candidate for Dental Implant surgery.
Step 2 | Revolutionary Scan
Dr. Sevgili and his team use cutting-edge technology to make the placement of your implants precise and painless. A detailed 3D scan of your head, neck and jaw enables our periodontist to plan your surgery from start to finish. Once we have established what it will take to successfully place your dental implants, your treatment can begin immediately.
Why do we use a 3D scanning system? The three dimensional view of your head, neck, and jaw allows us to:
Evaluate fully the depth and strength of the bone that you have to support your implants,
Anticipate any potential difficulties or problems that could arise in implant surgery, and
Virtually plan your surgery completely before they begin
Step 3 | Treatment Plan
Dental implants have three parts: 1) a titanium post, which is embedded into your jaw and simulates a tooth root 2) an abutment, which provides the stable setting for the tooth and 3) the crown, which functions as the replacement tooth that you see above your gum.
The post will need to be placed in the right location and at the right angle to correctly support the crown. The abutment will need to be the correct size, placed at the correct angle, and made from durable dental materials that are compatible with your body chemistry. The crown will be shaped to precise specifications so that it matches your other teeth in size, shape and color, and so that it enhances your bite and feels comfortable in your mouth.
Step 4 | Rapid-Cosmetic Surgery
Our dental implant surgeon will perform your surgery right here, in our fully-equipped operatory. Because they have already done the surgery on their computer, they will be able to do it quickly and comfortably.
You can expect precision placement of your new post, with very little trauma to your gums or jaw, and no unnecessary incisions or stitches. Our implant surgeon will use a painfree dental laser to sterilize the site and prevent infection.
Step 5 | Placement of Crown
Once the post and abutment are in place, Dr. Sevgili will carefully place and adjust the temporary crown. It will protect your implant as it heals, and allow you to smile, speak and eat normally.
The duration of the operation can range from half an hour to several hours depending on the number of implants and the condition of the patient. After the operation, it is expected to be approximately 2-6 months for osteointegration of the implant and jaw bone. If necessary, a temporary prosthesis may be used during this period. Then, your implant prosthesis is attached with an application that takes several sessions according to the nature of the case. 
Advantages of Dental Implants
Scientific studies have shown that implant success rates vary between 90 and 100 percent. But of course, it is not possible to give a 100 percent guarantee as in every medical procedure.
The success of implant treatment depends on the following factors:
Before and after implantation, care should be taken for oral hygiene and cleanliness;
The amount of alcohol and cigarettes used during the recovery period;
Good general health (uncontrollable diabetes affects recovery in a negative way);
Implant placement in a sterile environment;
It is directly connected to the fact that the indication is put in place by the physician.