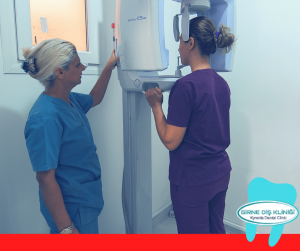 At the top dental clinic in Kyrenia, Dr. Mustafa Haldun Sevgili and his team focus on the needs and preferences of patients — from pediatric dental care to restorative dentistry, cosmetic dentistry and emergency treatments.
We are committed to the prevention, education and treating conditions such as periodontal disease, repairing decay, doing restorations, cleanings and routine digital Dental X-rays.
Latest Technological Advancements in Cosmetic Dentistry
As the leading dental clinic in North Cyprus, Kyrenia Dental Clinic, is equipped with the latest and best technological advances.
For patient comfort, safety, and accuracy — we use low-radiation Dental X-rays. We also use 3D Scanning — a high-tech machine that gives Dr. Sevgili more than 100 single images of your mouth, jaw and skull — in less than 15 seconds. Dr. Sevgili uses these detailed, low-radiation x-rays to rapidly plan for Dental Implants.
Along with these industry-leading technologies, we also implement 3D Imaging to remain committed to excellence in patient comfort and care.
Top Dentist in North Cyprus
Dr. Sevgili is a renowned cosmetic dentist who is committed to correcting functional problems so that the cosmetic procedures he performs will not only last a lifetime — but will look and feel beautiful .
At Kyrenia Dental Clinic, we provide a wide array of services including Dental Veneers, Dental Crowns and Teeth Whitening.