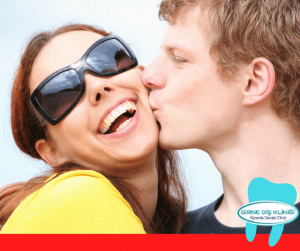 Dr. Mustafa Haldun Sevgili and the team at Kyrenia Dental Clinic in North Cyprus offer comprehensive restorative and cosmetic dental services, including Dental Veneers, Dental Implants and advanced Teeth Whitening.
Dr. Sevgili is dedicated to restoring attractive, healthy smiles that give his patients a boost in self-confidence. Using the highest-quality porcelain veneers, Dr. Mustafa Haldun Sevgili can transform your smile in less than one week. Kyrenia Dental Clinic in North Cyprus uses Dental Veneers not only revitalize your smile quickly, but can restore chipped or stained teeth, an unsightly gap, or uneven teeth grounding.
What are Veneers?
Dental Veneers are a thin, translucent layer of porcelain placed over the existing tooth surface — either to improve the aesthetics of a tooth or to protect a damaged tooth surface. Do you want to enhance your smile? Specializing in porcelain veneers, Dental Crowns and Dental Implants, Dr. Sevgili has taken cosmetic dentistry to the next level. His process  of applying veneers removes years of unwarranted aging from their face by creating a youthful appearance over the entire lower area of the face.
Fitting Dental Veneers
Dr. Sevgili is an expert North Cyprus dentist with over 10 years of experience in designing and placing Dental Veneers. Call it an exquisite smile makeover! Dental Veneers are considered restorative dentistry and are commonly implemented with Dental Implants or Dental Crowns.
At the leading dental clinic in North Cyprus, the process for fitting porcelain veneers is typically completed over two visits.
Step 1 | Initial Consultation
During your consultation, our team will take detailed scans of your teeth and create virtual images to show you what your smile will look like with Dental Veneers. Your teeth will be prepared for the new veneers and Dr. Sevgili will apply temporary veneers so you can experience them for a few days while the permanent ones are created.
Step 2 | Placement of Dental Veneers
During your second visit, Dr. Sevgili will place the permanent Dental Veneers and evaluate your bite and smile. Dr. Sevgili understands that with veneers, you want to be in and out when achieving a smile makeover.
Porcelain veneers are most successful when they look and feel like your natural teeth, but shaped and colored in the way that you would like your smile to look. It is important when placing veneers to have them color-matched exactly to your remaining teeth, so that your smile looks consistent and natural.
While they resemble tooth enamel, veneers will not discolor as enamel does, so their beautiful color will also remain consistent. With proper care, your veneers will keep you smiling for 15 years or more.
Benefits of Porcelain Veneers
Porcelain veneers are a very successful option in many situations where the original tooth has developed poor color, shape, and contours.
Why do patients come to us for Dental Veneers?
Dental Veneers vs. Teeth Whitening – Professional tooth whitening is one of the many services we offer and it can lighten your teeth up to eight shades in one visit to the office. In some cases, such as severe tetracycline stains, Teeth Whitening is not enough to achieve the extra whiteness patients desire. Dental Veneers are stain-resistant!
Dental Veneers vs. Dental Bonding – Dental Bonding can be used to fix flaws and chips in your teeth, and even to close gaps or fix misshapen teeth. Dental Bonding usually lasts 3-5 years at best before it starts to chip, wear away and look old. Porcelain Veneers on the other hand can last 15 years or longer with proper care.
Porcelain Veneers vs. Braces – The primary issue with braces is it takes nearly 1-2 years wearing the to get the teeth in place, and then you have to wear a retainer for the rest of your life to keep them there. Veneers are a permanent fix that can typically be applied in two visits.